Happy Ball Tennis School is happy to introduce our new tennis coach – Coach Billy. Coach Billy has been playing tennis for almost 20 years (ok, he is still quite young and charming). He was awarded with Certificate in Coaching (Level 1 – Tennis) by Singapore Sports Council, Singapore Lawn Tennis Association & ITF (International Tennis Federation).  With more than 15 years of coaching experience (both kids and adults), Coach Billy can guide students progressively on the respective mental, technical and tactical skills so that students would enjoy playing tennis.
With his keen interest in tennis coaching, Coach Billy attended International Coaches' Workshop – ITF Level 2 Coaches Course conducted by International Tennis Federation as well as many other courses and workshops by the current STA (Singapore Tennis Association).
A nice and humble tennis coach who has great patience with kids and beginners who are interested to learn tennis. In addition, he also add in lots of fun activities during his tennis lesson to make everyone smile and be happy. That's the spirit of Happy Ball Tennis School!  If you are looking for good tennis coach, feel free to contact us now.
Information
Hands : Right
NTRP : 5
Playing Style : Mixed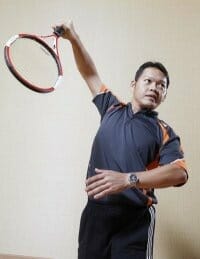 Coach Billy